Low Energy Exhaustion Tdh High-Torque Extruder
Produktbeschreibung
Model NO.:

TDH-75

Plastic Processed:

PE

Feeding Mode:

One Feed

Screw:

Twin-Screw

Screw Channel Structure:

Non Deep Screw

Automation:

Automatic

Name:

Twin Screw Extruder

Usage:

Plastic Forming Machine

Motor:

ABB

Machine Type:

PP,PE,ABS etc Extruder

Processing Type:

Plastic Thermoforming Machine

Transport Package:

Neutral Packing

Origin:

Nanjing, Jiangsu
Type:

Profile Extruder

Product Type:

Granulating Extruder

Assembly Structure:

Integral Type Extruder

Engagement System:

Full Intermeshing

Exhaust:

Don′t Exhaust

Computerized:

Computerized

Function:

Plastic Granulating Production

Color:

Color Choice(DIY)

Output:

750~1600kg/Hr

Raw Material:

PP,PE,ABS etc Granules

Trademark:

TENDA

Specification:

CE
Low Energy Exhaustion TDH High-torque Extruder
Product Specification
TYPE

Dia.(mm)

L/D

Speed(rpm)

Motor(KW)

Torque(N.M)

Output(kg/Hr)

TDH

-A/B

-35

35.6

32-60

600

30

8.3

70~150

TDH

-A/B

-40

41

32-60

400

45

8.3

90~150

 
 
 

600

45

8.3

100~230

 
 
 

800

55

7.6

160~280

TDH

-A/B

-52

51.4

32-60

500

75

8.5

200~380

 
 
 

600

90

8.5

300~450

 
 
 

800

110

7.8

300~550

TDH

-A/B

-65

62.4

32-60

400

110

8.8

300~550

 
 
 

500

132

8.5

400~660

 
 
 

600

160

8

500~800

 
 
 

800

200

8

600~1000

TDH

-A/B

-75

71

32-64

600

250

8.7

750~1300

 
 
 

800

315

8.2

900~1600

TDH

-A/B

-85

81

32-64

400

220

7.9

7000~1100

 
 
 

500

280

8

800~1400

 
 
 

600

350

8.4

1050~1800

TDH

-A/B

-95

93

32-64

400

350

8.3

1000~1800

 
 
 

500

450

8.5

1300~2300

 
 
 

600

550

8.7

1650~2750

TDH

-A/B

-120

116

32-56

500

750

8.4

2700~4500

TDH

-A/B

-135

133

32-48

500

1200

8.2

4500~7500
About Product

Adapting to new marketing requirement, H
DH-A
Compounding
 e
xtruder series is born with much higher performance. It
has characteristics of high torque, enhanced capability, stabilized and uniform feeding, low energy exhaustion as well
as perfect self-clearance.
TDH-B
 Series High Torque
Twin Screw Extruder Set
The Structure and basic principle is
similar with T
SH
 S
eries.
TDH-B
 series comprehensive increase the application and
ability
of products with Original German high torque
gear box, lubricating system and torque
limiter,
Screw elements and key part of extruder, accurately
manufactured with CNC
technology which guaranteed
the process accuracy effectively.
Reasonable space and personnel usage with 
TDH-B
 series
.

About Company
T
enda , headquartered in Nanjing, China, is a global manufacturing and trading company in the field of high
performance plastics and rubber processing equipment , extrusion solutions, masterbatch and compounding, etc. It is a pr
o
fessional manufacturer
of twin screw extrude
r
, single screw extruder ,two stage extruder and its
related auxi
li
aries.We tailor solutions from raw materials, materials processing equipment, to injection for different customers. Each solution is designed , manufactured, and commissioned by experienced teams of professionals engineers and after
sales staffs.
"High efficiency, energy-saving" is the company since its inception has been diligently pursue the goal, is the company adhere to the invariant features, to meet customer requirements, to create greater economic benefit and social benefit.
"Teng machinery" will strive to create superior machine quality, permanent service for you
.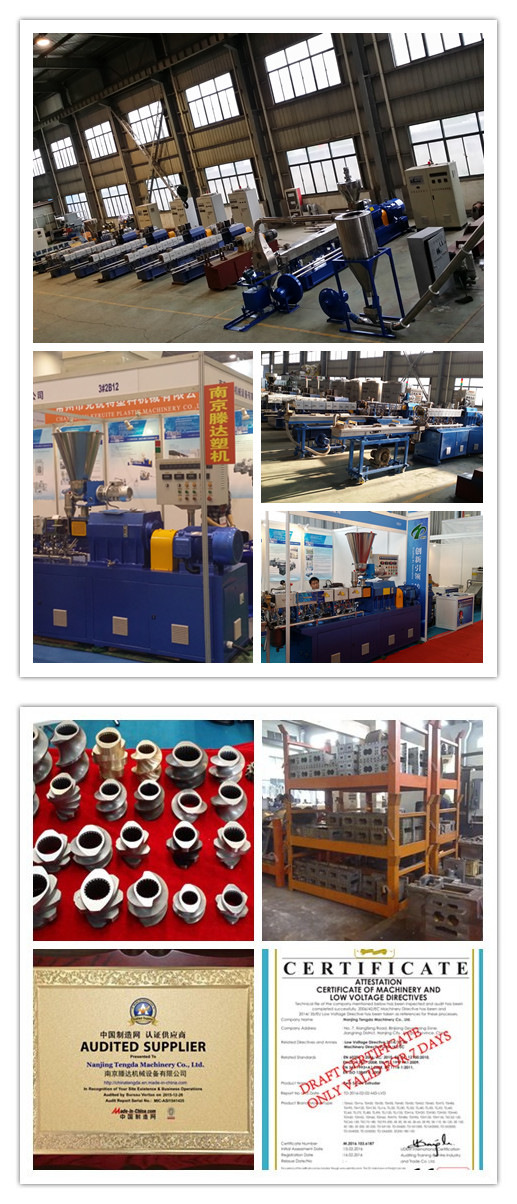 Q&A
:
1.
Why choose us
? 
You can get a very fair price from us and our price can make you beat your competitors in the market.
Our products have obtained ISO9001 and CE certification,the quality can be guaranteed.
We use the best quality materials or imported materials.
We focus on the field of extrusion machine,and aim to be the best manufacturer of this field.
We can reply quickly for customers
'
 demand and the delivery can be very fast.
We have our own factory and the technical production team,the workers are all very experienced.
2.
How about the service
?
Before sales
1. introduce products and application details
2. recommend suitable solutions
3. provide with reference information
4. 
arrange trial and testing running in our factory
During manufacturing
1. provide with layout and engineering conditions
2. inform the processing conditions
3. offer other documents
After 
s
ales
1. provide with installation and training
2. offer spare parts
3. provide with necessary technical support
4. 
get feedback from customer in time and visit customer regularly
3.
What
'
s the payment
?
L/C, T/T, Western Union, D/P,Paypal, Money Gram
.
Produktgruppe : Drehmomentstarke Doppelschneckenextruder