High -Torque Filler Masterbatch Twin Screw Extruder
Produktbeschreibung
Model NO.:

TDH-65

Plastic Processed:

PP

Feeding Mode:

Multiple Feed

Screw:

Twin-Screw

Screw Channel Structure:

Deep Screw

Automation:

Automatic

Name:

High Quality Tsh-65 Strand Pelletizing Extruder

Motor:

160kw

L/D:

32-60

Screw Material:

38crmoala Nitrogen

Axes Core:

40CrNiMoA

Trademark:

TENDA

Specification:

W6Mo5Cr4V2 or38CrMoAl
Type:

Plastic Granulating Production

Product Type:

Granulating Extruder

Assembly Structure:

Separate Type Extruder

Engagement System:

Intermeshing

Exhaust:

Exhaust

Computerized:

Computerized

Machine Color:

Customizable

Production:

500~800kg/H

Screw Diameter:

62.4mm

Barrel Material:

45# Steel with Bimetal Bushing

Hardness:

HRC 58~64

Transport Package:

Neutral Packing

Origin:

Jiangsu, China
 

High -torque Filler Masterbatch Twin Screw Extruder
Product Show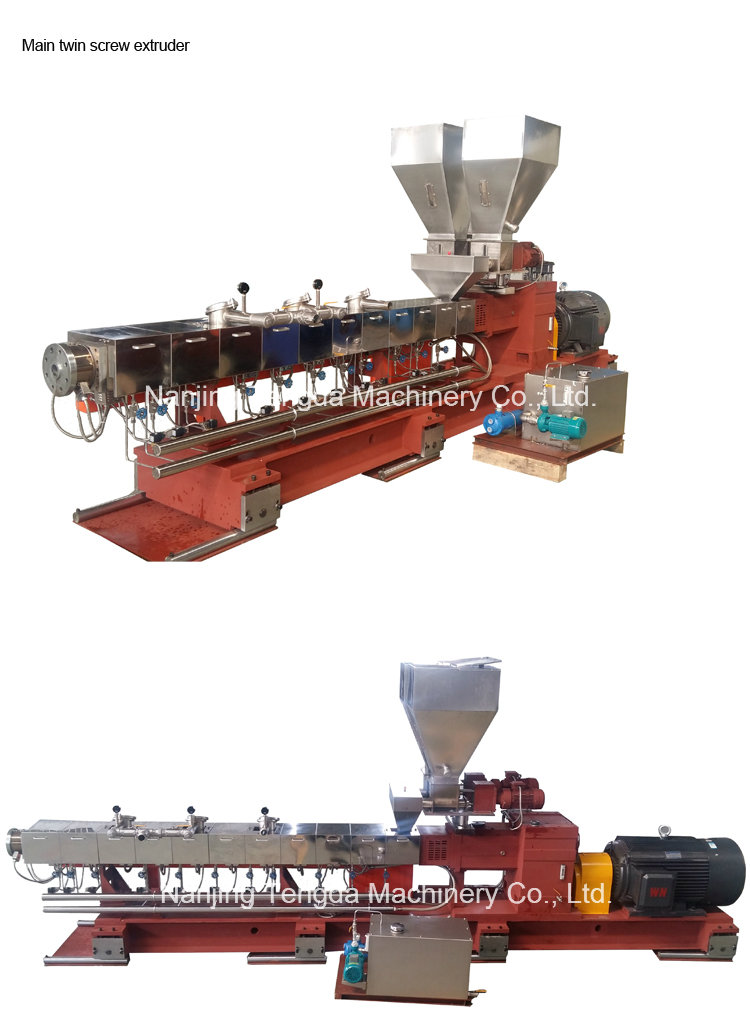 Adapting to new marketing reqiurement, TDH Compounding Extruder series is born with much higher performance. It has characteristics of high torque, enhanced capability, stabilized and uniform feeding, low energy exhaustion as well as perfect self-clearance. It comprehensive promote the application and the ability of products with high torque gearbox. Screw elements and some key parts of extruder are accurately manufactured with CNC technology which guaranteed the process accuracy effectively. It makes full use of the production capacity of the single machine so that making the operation space to the greatest degree.
Key Parts
 1. TDH series High Torque Gearbox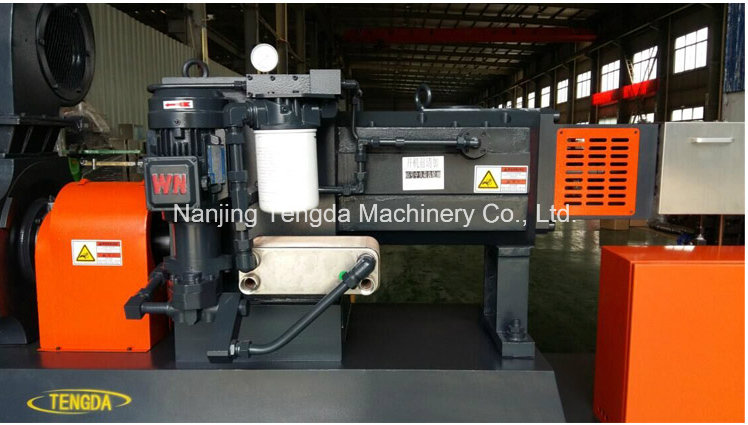 Characteristics:
A. "Critical contact betwween the teeth and the rigid film drive control technology " standard with "tandem gear shaft axially zero auto searching track stability control capacity " can guarantee the practical application of all high torque output range and more than or equal to 125R/min span speed range.
B. With double output shaft axial movement of the zero gap control, all tandem bearing and a single row of large diameter plane thrust bearing of work face balanced load capacity.
C. Double output shaft end of the high (all + 0.0125mm) control design can avoid adjusting screw assembly for operator for interchangeability factors caused the element axial misalignment risk of collision.
D. The supply of relatively independent measures (system) to build capacity can ensure all the lubrication, cooling and later twist rigidity of oil film.
Humanized design and convenient daily maintenance:
1.  The high speed input and double output shaft oil seal with the advantages of convenience and no influence on the working stability of the transmission box assembly is convenient for user.
2.  The optimization of the input shaft is designed to be easy for the final users to quickly remove the assembly, the oil pool cleaning and fast reset of the daily maintenance.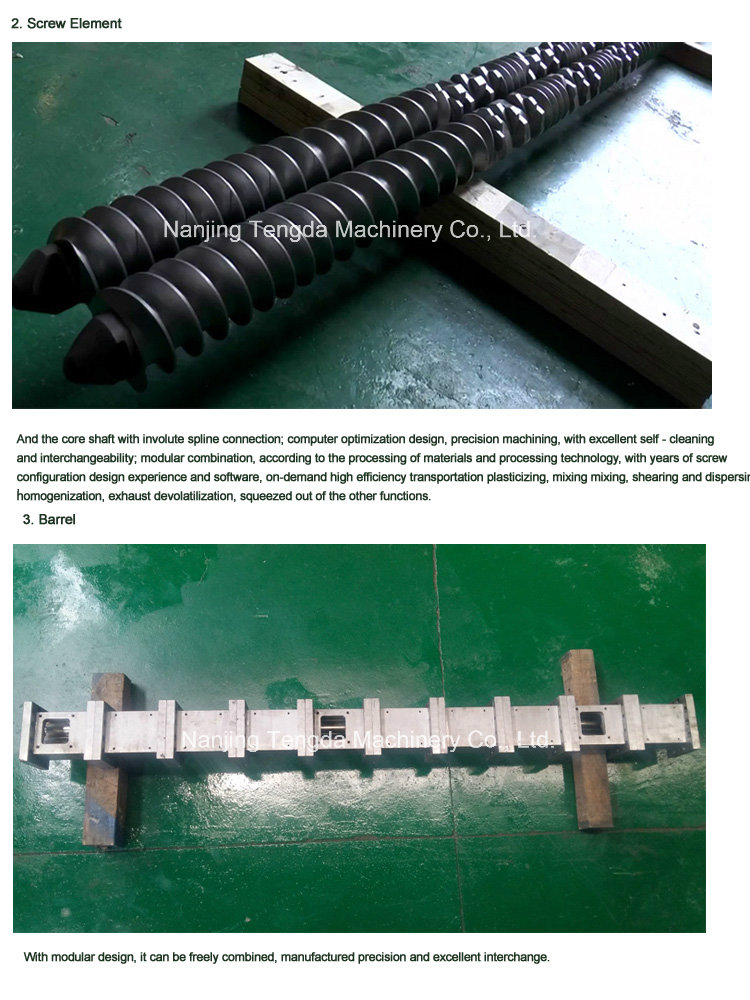 4. Electric Control System(PLC)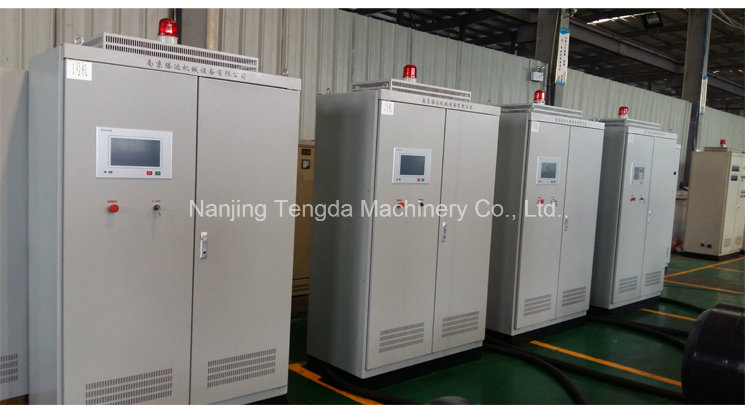 Temperature control system of the host by electric shock solid state relay and Japanese Omron "without artificial intelligence instrument, with dual channel, PID parameter self tuning, the heater circuit indication function; host current value of the Japanese "RKC display", and with the host interlock, to achieve an instantaneous current protection; instrument control components are selected Schneider Inc products.
Host interlock protection function: the main engine and gear box oil pump, motor cooling fan interlock open.
The host and the feeding machine interlock protection; with melt pressure and melt temperature display, which melt pressure and interlocking mainframes, overpressure protection.
Product Description
Paraments

 

:
Type

Dia.(mm)

L/D

Speed(rpm)

Motor(kw)

Torque(N.M)

Output(kg/h)

 TDH-35

35.6 

32-60

600 

30 

8.3 

70~150 

 TDH-40  

41   

32-60   

400

45 

8.3 

90~150 

600 

45 

8.3 

100~230 

800 

55 

7.6 

160~280 

TDH-52   

51.4   

32-60   

500 

75 

8.5 

200~380 

600 

90 

8.5 

300~450 

800

110

7.8 

300~550 

TDH-65   

62.4    

32-60    

400 

110 

8.8 

300~550 

500 

132 

8.5 

400~660 

600 

160 

8 

500~800 

800 

200 

8 

600~1000 

TDH-75  

71  

32-64  

600 

250 

8.7 

750~1300 

800

315

8.2

900~1600

TDH-85   

81   

32-64   

400 

220 

7.9 

700~1100

500 

280 

8 

800~1400 

600 

350 

8.4 

1050~1800 

TDH-95  

93  

32-64   

400

350 

8.3

1000~1800 

500 

450 

8.5 

1300~2300 

600 

550 

8.7 

1650~2750 

TDH-120 

116 

32-56 

500 

750 

8.4 

2700~4500 

TDH-135 

133 

32-48 

500 

1200 

8.2 

4500~7500 


Packing &Shipment

Our machine is fisrt painted with anticorrosive oil, and then wrapped in the plastic film before it is finally packed in the wooden case.
Packing :Wooden case for export, fit for multiple handing and long distance marine shipping.
Delivery time: Within 30 Days.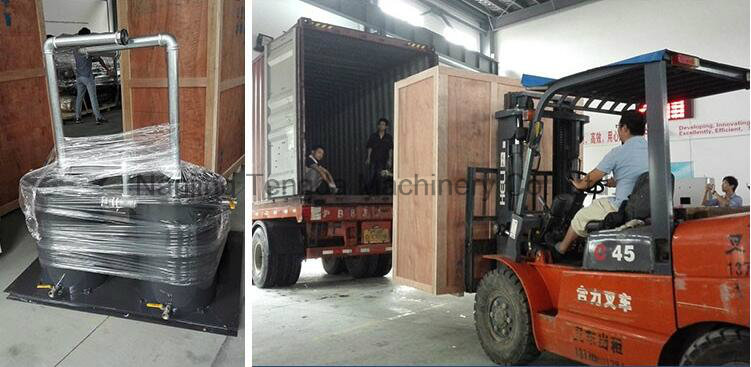 Company Information

    Tengda , headquartered in Nanjing, China, is a global manufacturing and trading company in the field of high
performance plastics and rubber processing equipment , extrusion solutions, masterbatch and compounding, etc. Its unit Nanjing Tengda Extrusion Company is a professional manufacturer of twin screw extruder, singlescrew extruder ,two stage extruder and its related auxiliaries.We tailor solutions from raw materials, materials processing equipment, to injection for different customers. Each Tengda solution is designed ,manufactured, and commissioned by experienced teams of professionals engineers and after sales staffs.

Our Service

Presales service:
>Introducing in detail features and application of the products to customer
>Selecting economical and practical machine & equipment for customer
>Providing operation data of the related machine & equipment
>Providing means of trial performance for customer
Sales service:
>Recommending engineering conditions required for installation of the machine & equipment
>Communicating in time the manufacturing progress of the machine with user
>Providing assistance in technical conditions, screw combination and barrel disposition needed for product
After-sales service:
>Providing on-the-spot technical assistance in installation, commission and training
>Filling in detail customer's information
>Providing long-term maintenance service and spare parts
>Giving technical support to customer for developing new product
>Providing free maintenance for a year
FAQ
Q: Are you trading company or manufacturer? 
A: We are factory.We have the technical production team,and the workers are all very experienced.
Q: Why choose you? 
A:1)You can get a very fair price from us and our price can make you beat your competitors in the market.
2) Ou r Excellent Service 
For a quick, no hassle quote just send email to us
We promise to reply with a price within 24 hours - sometimes even within the hour.
If you need an advice, just call our export office at +86 025 52296133, we will answer your questions immediately.
3) Our quick manufacturing time
For Normal orders, we will promise to produce within 30 working days.
As a manufacturer, we can ensure the delivery time according to the formal contract.
Q: What kind of certification do you have? 
A: Our products have obtained ISO9001 and CE certification,the quality can be guaranteed.We focus on the field of extrusion machine,and aim to be the best manufacturer of this field.
Q:What's the payment?
A:L/C, T/T, Western Union, Paypal, Money Gram.
Produktgruppe : Drehmomentstarke Doppelschneckenextruder